Primera Technology LX810
WEST COAST LABELING SOLUTIONS now offers the LX810, an easy to use, high-resolution digital ink jet colored label printer. The new LX810 printer is durable… suitable for use from the office desk top to a busy warehouse or factory floor. Perfect for market testing of products, actual product labeling, or private labeling.

The state-of-the-art LX810 is a great value with very high output quality. It comes with five built-in print resolutions so you can choose the quality and speed that fits your application. Mix any combination of text, graphics and photography with any font available on your PC for creative flexibility. Print one label at a time or thousands per day.
The complete LX810 system includes Windows XP/2000 printer driver control for all printer functions and label design software from NiceWare. All this at an affordable price of $2495.
Printer: LX810 by Primera Technology
Printer Type: Digital ink jet label and B/C printer
Print Speed: 2″ sec for blank, 1.5″/sec for blank and color
Resolution: 4800 x 1200, 2400 x 1200, or 600 x 600 DPI
Max Print Width: 1-5 min 8.25″ max
Print Length: 24″
Supply Roll: 3″ internal core
Dimension: 9.1″ high, 17″ wide, 15.5″ deep
Weight: 29 lbs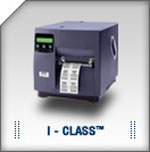 I-Class
The Datamax I-Class printer line is the most comprehensive, cost-effective industrial label printing solution available in the thermal printer marketplace today and will continue to provide the same exceptional value into the future. The I-Class Family currently consists of the DMX-I-4208, I-4308, I-4212, I-4406, and I-4604. I-Class printers are available with varying printhead resolutions, from 203 to 600 dots per inch, and print speeds, from 4 to 12 inches per second. I-Class accessories are field installable and removable, increasing the utility of your technology investment, and most enhancement options are simply plugged into the printer's rear card cage. All I-Class printers feature the same innovative design incorporating scalability into a rugged structure that ultimately creates a versatile, powerful label printing tool. With the most standard memory and a vast number of available configurations, the I-Class has emerged as the printer of choice for large, multinational operations. However, the remarkably sophisticated design and its resulting ease-of-use make the I-Class the product of choice among facilities of all sizes in all parts of the world where performance and value are not simply marketing buzzwords.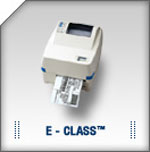 E-Class
The Datamax E-Class Family is designed to be the printer of choice when value, performance and features are the primary printer requirements. The E-Class Family consists of the DMX-E-4203, E-4204, and E-4304 printers. E-Class printers are capable of printing a wide variety of labels in applications ranging from small office shipping requirements to compliance and general purpose product identification labels and tags. Hospitals, medical laboratories, automobile service shops, shipping/mail centers, and inventory stock rooms are all typical examples of the types of businesses that can benefit from using the E-Class printers. And with PDF417 and MaxiCode 2D bar code capabilities, the E-Class can print complex transportation symbols and label formats. The E-Class printers are available in both Direct Thermal or Thermal Transfer configurations and are available with an options list developed to suit virtually any low- to medium volume label printing application.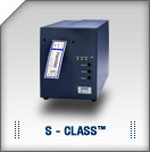 S-Class
The Datamax S-Class was defined to enable Datamax to apply engineering expertise and experience to a specific niche industry. To this end Datamax targeted the admissions ticketing market with the first family of S-Class printers. The ST-3210 and ST-3306 are 203 and 300 dpi versions of the tabletop model, while the SV-3210 and SV-3306 are 203 and 300 dpi versions of the vertical in-counter model. The S-Class is an excellent printer for new box office installations as well as for add-on to or replacement of older, difficult to maintain products. Datamax has worked with a number of ticketing solutions providers to certify the S-Class for use with leading software products.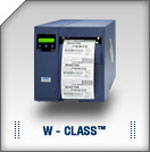 W-Class
The Datamax W-Class Family of printers was designed to address the specialized printing needs of applications where wide label formats are industry-standard requirements. The W-Class product family consists of the DMX-W-6208, the W-6308, and the W-8306. W-Class wide-format label printing products are the most advanced of their kind in the marketplace today. The W-Class features more standard memory, a beefier processor, and the scalability required in today's connected workplace. The W-Class utilizes the acclaimed electronics features of the industry-leading Datamax I-Class product line, including a card cage with the option to add electronics accessories on-site. W-Class printers are constructed to endure the most intense industrial printing environment, with an all-metal chassis and heavy-duty metal exterior designed to protect the value of your technology investment.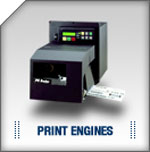 PE Series

The Datamax print engine products are designed to be an invisible piece of a bigger part of production equipment, facilitating the process of finalizing production. The PE Series consists of the PE42 and PE43, both 4-inch wide print engines with 203 or 300 dpi resolution available in both right- and left-hand models. The Datamax PE is also available in a Stainless Steel model designed to address the specialized needs corrosion resistant applications such as those found in the food processing industry. The PE Family was developed for demanding multi-shift, mission critical applications that require optimal throughput from an easy to operate, highly durable print engine. The Easy to operate design incorporates a drop-down pinch roller mechanism allowing full access to the media path, simplifying media loading and encouraging preventative maintenance.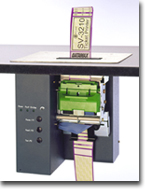 SV-3120 Ticket Printer
Specialty ticket printers can handle all of your ticketing and admission applications.
Please contact us for prices on any of the above printers.